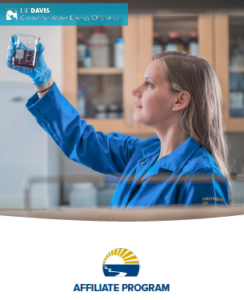 Download PDF
The UC Davis CWEE seeks strategically minded stakeholders and leaders to join our efforts to advance water management solutions for the integrated savings of water and energy resources.
Our affiliates are integral in advancing our mission by engaging in our research from concept to implementation. The center encourages affiliates to actively participate in our research program, inform us about pressing industry concerns important to their organization and beyond, and help us prioritize the most applicable and valuable research efforts for advancing water management solutions. Further, affiliates derive benefit from the integrated solutions developed due in part to their sponsorship.
Affiliates have many opportunities to engage on critical topics with our center's faculty, researchers, and professional network, as well as collaborate with other thought leaders from various industries. Center sponsored activities include multiple webinars on our current research activities, two or more public workshops a year on current and emerging research topics, one-on-one time with our director and researchers, and an annual Affiliates Forum.
For more information, contact:
Frank Loge
Faculty Director
(530) 754-2297
email
Kendra Olmos
Executive Director
(530) 752-5439
email